Recently I posted ZE Records' marvelous label anthology
Mutant Disco
, which features a generous handful of songs by disco diva Cristina Monet, more commonly known as Cristina. As a followup of sorts, I'd like to shift the spotlight now to her debut lp,
Cristina
(ZE, 1980), reissued here as
Doll in the Box
(ZE, 2004) with bonus material that expands the original seven tracks to a handsome twelve. The wife of ZE co-founder Michael Zilkha, Monet was a Harvard graduate, a Village Voice critic and a devoted Brechtian who briefly became the shining star of ZE on a whimsical suggestion from her husband. As Kurt B. Reighley notes in his article
"Is That All There Is?"
(featured on ZE's website):
In 1978, Zilkha was keen on starting a record label that married punk with disco. Towards this end, he had purchased the publishing to "Disco Clone," a ditty by a fellow Harvard undergrad thespian of Cristina's, Ronald Melrose. "When Michael bought 'Disco Clone,' I said, 'That is, without doubt, the worst song I have ever heard,'" recalls Cristina. "'It is so bad that the only way you could record it would be as Brechtian pastiche.' And Michael said, 'Do you want to give it a shot?'"

Following the success of "Disco Clone", Cristina recorded her first lp for ZE, a self-titled album produced by August Darnell, aka Kid Creole. The album was a fabulous mix of soaring orchestral backgrounds, faux-ditzy vocals, and parodic, brazen lyrics. "Disco Clone" boasts over-the-top string arrangements with Cristina's chirpy falsetto, claiming that "I'm a disco clone, disco clone, disco clone, disco clone! / And if you like the way I shake it / and I make you want to make it, / there's plenty just like me to go around! / Now nobody has to spend the night alone." Alternating with Cristina's chorus is
a man's deep, sleazy voice that narrates how he entered a club looking for action and was shocked to find a dozen nameless, faceless girls at his disposal; reminiscing about his bedroom success, he laughs the night away while Cristina continues to sing the repetitive refrain, as if she were incapable of articulating anything else. A highly gendered critique, "Disco Clone"'s message would continue on Cristina's next singles: utterly unique covers of The Beatles' "Drive My Car" and Peggy Lee's "Is That All There Is?" that firmly
established her persona as a sex-charged, ultra-femme fatale who consistently

détourn

ed her own gender stereotypes.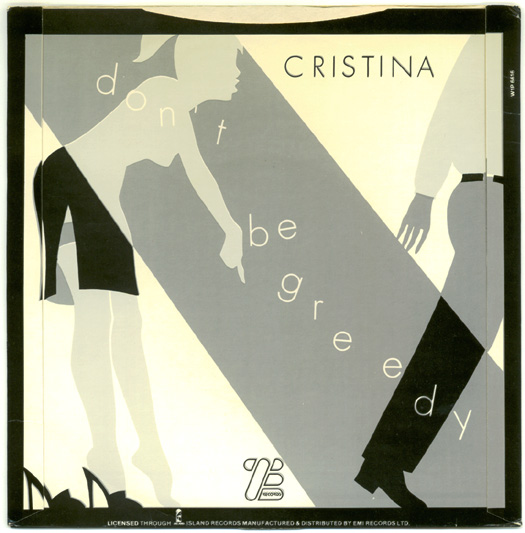 Cristina would follow her debut with

Sleep it Off

(ZE, 1984), an
album produced by Don Was of labelmates Was (Not Was). Three years in the making,

Sleep it Off

is
far more ambitious in its range and, in my opinion, not nearly as good as the music here on

Doll in the Box

. "Jungle Love" begins the album with
Lizzy Descloux-esque tropicalism, while "Don't Be Greedy" defines what was to become the signature ZE sound: thumping beats, jazzy saxophones, polished backing vocals and a dash of punk sass. Sometimes playing the role of the promiscuous disco queen, at others telling tales of weariness and neglect, Cristina uses dance music as a form of internal critique, at the same expanding its artistic possibilities and deepening its message. "Everytime I want a kiss, you put a cigarette between your lips, oh why?" ("Don't Be Greedy"). The epic "La Poupee Qui Fait Non", a Michel Polnareff cover, matches winding horn lines with some solid cowbell and Cristina's bes
t pouty-lipped cooing. A classic breakdown three minutes in makes room for some razor-sharp electric guitar, light synth flourishes, and male-female call-and-response vocals (complete with ever-so-slight moans). Other high points include "Mamma Mia"'s squiggly keyboard- and brass-propelled madness, the dance-downfall narrative of "Blame it on Disco", and the longer version of "Disco Clone" titled "Ballad of Immoral Manufacture" (after Brecht, of course), doubled in length by extended instrumental interludes.

After the financial failure of

Sleep it Off

, Cristina retired from the music scene entirely, convinced that her talent was a mirage conjured up by her husband Zilkha. However, it's somewhat of a truism that, as time goes on, we forget about the work's content and look only at its form. Thankfully, Cristina's innate musical talent eclipsed what began as a sociological experiment and left us with this utterly wonderful lp, historically fascinating but -- and this is probably mo
re important -- eminently groovy.

Cristina - La Poupee Qui Fait Non.mp3 (220 kbps VBR, 12.1 mb)
Cristina - Doll in the Box (ZE, 2004)

More great album art and information here.

And for those of you who thought I was joking last week: TGIFF

(That means, Thank God it's Feline Friday!)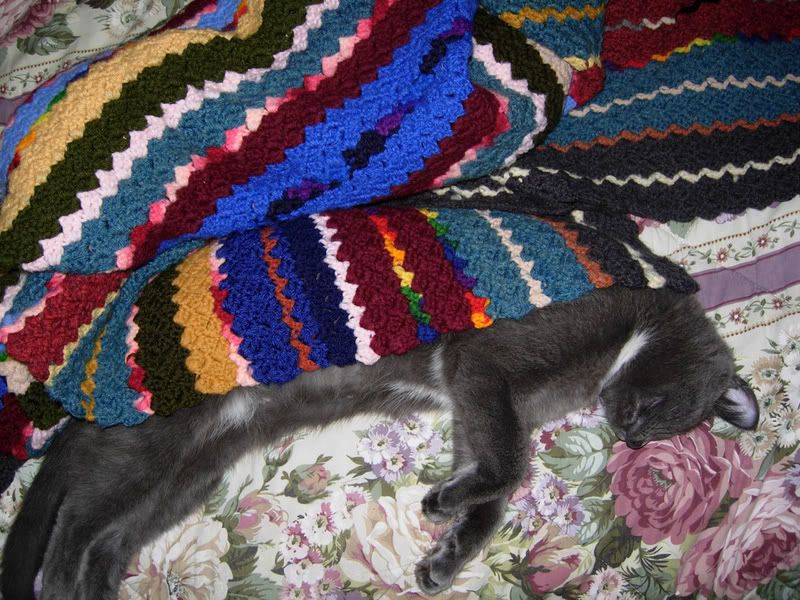 Vera Watter rests after a long day of knocking things over and attacking her companions
Related posts:
Mutant Disco (ZE)