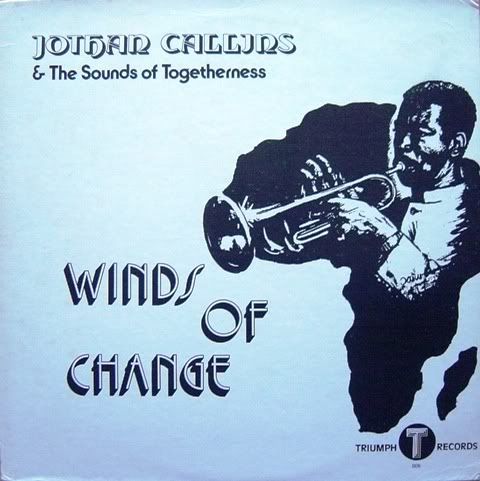 What can I say about Jothan Callins? Not much, to be honest. It's not that I'm overwhelmed by an over-abundance of material on Callins, but rather the opposite: I know next to nothing about the man. I can only describe how I came to hear his
Winds of Change
(Triumph, 1975) myself. I was talking with someone on Soulseek who was looking for "spiritual jazz" – our points of reference being the Coltranes (John and Alice), Pharoah Sanders, Mtume, and the renewed interest in Idris Ackamoor's Pyramids. I threw out my best recommendations, but this stranger had already heard them all. Obviously much more learned in the field than I, he suggested I listen to Jothan Callins' rare and long-forgotten album before we parted ways.
I'd never heard of it before – never even heard the name Jothan Callins. But perhaps if I was a bigger Sun Ra devotee I would have been familiar, as Callins often provided trumpet for the Arkestra during its long and industrious career. He left behind one LP as a leader, the aforementioned
Winds
, which is something of a cult item and a very well-kept secret. Scant information is available online, yet it currently sells for £100 or more. Ah, the strange world of record collecting.
Featuring Callins on trumpet and bells, Joseph Bonner on piano and tambourine, Cecil McBee on bass, and the team of Roland Duval and Norman Connors on percussion,
Winds of Change
is generally compared to the Strata East style of jazz that was gaining force in the '70s – not without reason, as the lineup features many of the same characters in regular rotation on that wonderful record label. Joe Bonner, for example, would appear with Magic of Juju the next year, while Cecil McBee had released his own
Mutima
on Strata East the year prior to
Winds
. So despite its obscurity,
Winds of Change
is pretty firmly rooted in a jazz scene that combined free playing with mysticism and Pan-Africanist beliefs. But what exactly does "spiritual" connote? It's hard to explain, even though the Strata East collective did it so well.
John Coltrane's "Om" is an obvious example: how could his yogi-like incantations on that record be mistaken for anything
but
spiritual? But if spiritual jazz is somehow about form and not about content, our definition needs to be broader. I think spiritual jazz is often marked by a certain thematic repetition – unafraid to play the same phrase more than ten times – and that this repetitive thrust induces an ecstatic hypnosis in the listener. On the flipside, so many of these records have their moments of gentle, floating lyricism, filled with shimmery percussive effects and laconic solos. But even in its secularized form, spiritual jazz is far less an object of contemplation than it is a full bodily experience.
Winds of Change
does all of those things, at one moment carrying us at the wave's crest without letting go, then washing over us with its weightless, foamy tendrils. If the music is ambiguous, the cover makes Callins' intentions clear. The ensemble is entitled "The Sounds of Togetherness," and the cover shows the trumpet player emerging out of a drawing of Africa. "Prayer for Love and Peace" begins the set, though its tone is more like a ballad than an invocation. Callins and his group sigh their way through the piece, buoyed up by McBee's full and resonant bass. The rhythms are ethereal, all tambourine and brushwork, with Callins' trumpet bringing to mind Miles Davis' or Booker Little's more melancholic excursions. It's with the title track, however, that things really get cooking. Duval and Connors brew up fiery polyrhythms in tandem with Bonner's angular piano. At his most intense, Callins spirals into atonal passages and flights on the upper register; but overall there is something subdued in his playing, very steady and very organic, almost hovering above the ensemble. With spiritual jazz, it's less as if one is soloing but merely raising the ante.
"Sons and Daughters of the Suns" begins with slow-moving elegance, but at the insistent riff of McBee's bass the group switches gears to an empowered, gospel-inflected groove. This is really Callins' piece: he steals the show with his bluesy, knotty playing, never putting the trumpet down until the final cadence. The finale, "Triumph," opens with a gutbucket theme similar to Archie Shepp's work around the same time. But the idyll is short-lived, as a spluttering trumpet line leads the group into the sublime vamps we've grown so accustomed to hearing from them, those circular, perpetual melodies driving the quintet to greater heights… One should not underestimate the impact of Bonner's piano with its beautiful, crystalline patterns, nor McBee, who is mainly responsible for atmosphere with his resounding, elastic bass runs. The best "spiritual jazz" is always found at this nexus between personal meditation and militant action, and Jothan Callins'
Winds of Change
plays out that paradox with as much brilliance as any of its better-known contemporaries.
Jothan Callins - Winds of Change (Triumph, 1975)
256 kbps, 81.8 mb