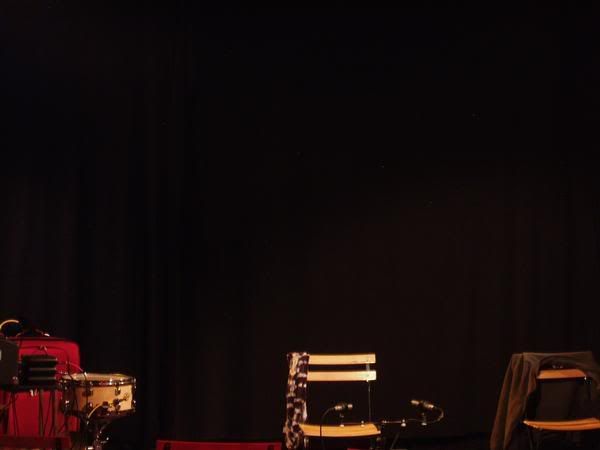 Australian guitarist Tim Catlin has been making a bit of a splash lately with his new LP
Radio Ghosts
(23five, 2007). Milwaukee-based percussionist Jon Mueller I'm less familiar with. The two have teamed up this year for a fantastic release on Mueller's own Crouton imprint titled
Plates and Wires
. Of course, I owe you a bit of preamble about the album; half the fun of listening to it is understanding how it was made. From the press release:
[Tim Catlin's and Jon Mueller's] approach to their instruments is based on their shared interest in the vibration of material and the changes in sound that result in modifying those vibrations. Over a year in the making,

Plates and Wires

features a series of different situations involving guitars, gongs, snare drums, and bass drum, and their resonant effect upon one another.
And, of course, details on the album's presentation:
The recording of

Plates and Wires

was mastered by James Plotkin (Khanate/Phantomsmasher/Khlyst) and is released in a limited edition of 300 in a 10x10" package featuring artwork from Milwaukee painter Thomas Kovacich. Kovacich's practice of dragging paint with devices over large planks of disused furniture creates a visual cohesion with the layers of milky and gritty sounds heard within the recording.
(Indeed, it's one of the most beautiful albums I own, striking a happy medium between the convenience of cds and the lush presentation of vinyl. It's worth snagging a copy – if you can still find one!)
Aquarius Records
has aptly described the process behind
Plates and Wires
as "like a game of Mouse Trap," with each element seemingly activating the next in an endless harmonic give-and-take. The reviewer there offers another concise and lucid explication: "The amplifier hum rattles the drum head of a snare which in turns vibrates the gong and sets off a resonant frequency on the piece of metal resting on the guitar strings, which in turns rattles the snare again and the cycle repeats itself." What results is a very organic recording with a dream logic in place, wandering through the speakers in an hour-long musical
dérive
. You can hear the effect with particular clarity on the fourth untitled composition, as Mueller's militaristic rolls invite a heavy drone from Catlin, causing Mueller's snare to rise in volume with the oscillations of his partner's guitar. As the snare fades out, it's replaced by shifting electronic textures and heavily processed rhythms. We hear a slow scraping noise begin to emerge, creating perforations in Catlin's steadily wavering drone, which has become hypnotic and full of subtle reverberations.
All of
Plates and Wires
has this ominous, forbidding quality to it. Its damaged soundscapes aren't really fit for meditative purposes; they're more like lingering snapshots in the back of one's mind, faded and scratched. The second track begins with a harsh, pulsating guitar line reminiscent of Remko Scha's work, terrifying in its minimalist purity. It fades away into an extended network of drones, but one feels that these sustained units have somehow internalized that initial distress, obscuring it beneath layers of scratchy snares and metallic rattling, burying it like an evil memory that never quite fades. Each piece evolves in a way that leaves listeners at a loss to describe how they ended up at their destination – as if the piece's end is never really an end, just an arbitrary limit placed on the music's flow. No climax, no dénouement. Only drift.
In the process, we lose track of what these two men are even playing; the sounds they produce are so far from what we think of as "guitar" and "drums" that to analyze them in that context is more or less a dead end. Track three sounds closer to synthesizer trickery than anything else, its twittering sine-like oscillations balanced by low-end hum; Mueller's percussion on this piece takes on the quality of television static, and it almost requires a leap of the imagination to connect it back to anything resembling a rhythm instrument. With their ingenious methodology, Catlin and Mueller turn the most disparate sounds into a complexly woven tapestry, beautiful from a distance but rough to the touch, boiling music down to two of its most distinct elements: texture and movement. Like a game of pong, the ball is bounced back and forth between opposing poles at varying angles and speeds. To complete the metaphor, however, one would have to imagine this ball changing color mid-flight.
Tim Catlin & Jon Mueller - Track Three.mp3 (192 kbps, 8.8 mb)
Tim Catlin & Jon Mueller - Plates & Wires (Crouton, 2007)